Last year I posted my recipe for Classic Vanilla Buttercream.  It's the recipe I use for decorating cupcakes and birthday cakes, especially if I know kids will be the ones eating it.  For wedding cakes I like to use a more silkier type frosting that I'll share with you in the near future. But for everyday cake frosting, the vanilla buttercream is what I use.  From that post, I received many comments and emails requesting a chocolate buttercream frosting which could also be used to frost cakes and for piping decorations.
I often referred readers to my most favorite chocolate frosting I use for glazing, frosting, filling, and piping.  As you can see from the picture above, chocolate ganache is very versatile and best of all it is made with heavy cream and chocolate.  But this frosting is also heavy and very decadent, unless you whip it.  Some people would write me and tell me they didn't want ganache but wanted  a more true buttercream.  So by popular request I made a batch of American chocolate buttercream over the weekend to share with you.  It is great for frosting cupcakes and cakes.  It can also be used for frosting brownies or cookies.  Like its name suggests, it is more buttery, creamy, and slightly sweeter than ganache. And like ganache, it pipes decorative borders very nicely.
You will need to make sure your butter is soft enough to cream.  Do not be tempted to softened it in the microwave unless you know how NOT to melt the butter.  Melted butter will not work for this frosting.  But if you do use your microwave, I like to place cold sticks in the microwave for 8 seconds.  If it's still too firm, I will microwave it for 2 more seconds.
Next, you'll want to cream the butter and then then add sifted sugar and cocoa.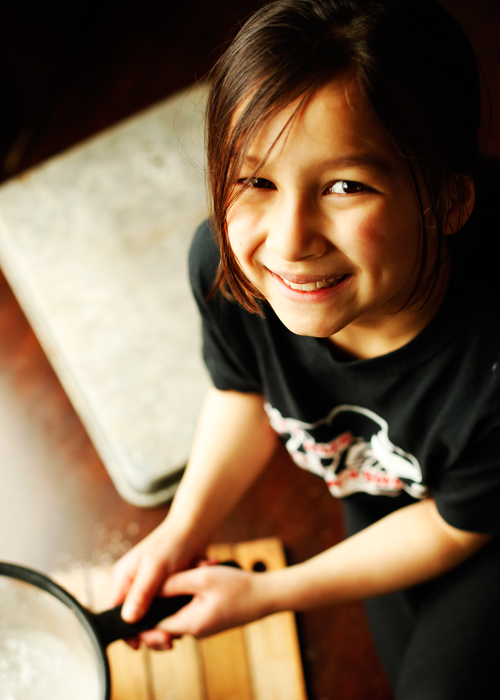 This is my daughter Mimi.  She likes to help me in the kitchen whenever chocolate is involved.  I've taught both of my daughters about the baker's reward philosophy.  If you help me in the kitchen, you also get to lick the spoons.  Oddly enough, they  never seem to want to help me when I'm cooking vegetables. Those stinkers.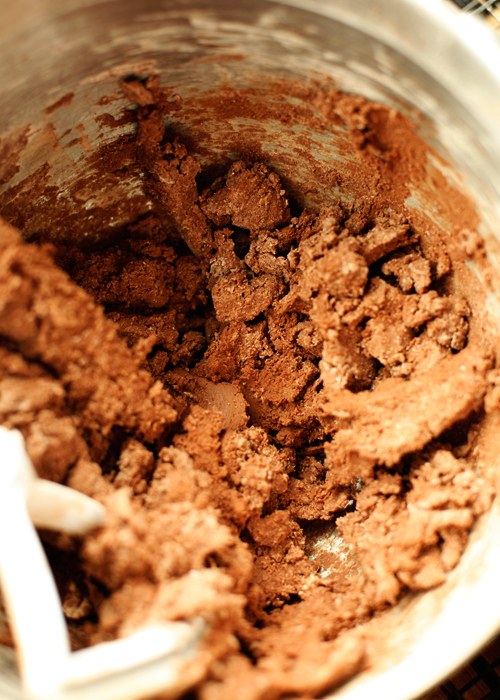 Be sure to start your mixer on slow speed after adding the dry ingredients.  Otherwise you will have cocoa and sugar fly everywhere landing on everything within a couple feet of you.  Your frosting will look strange like clumps of clay.  Don't worry.  Once we add some cream it will transform into beautiful chocolate buttercream.
When deciding on whether or not to use milk or cream, I prefer cream.  It just makes the frosting… well.. more creamier.  Half and half works too.  But if you do use milk, it is better to use whole milk for the added fat content.  I also prefer to use almond extract when making frosting.  It enhances the flavor so nicely and a little bit goes a long way.  But if you only have vanilla, use it!
As you can see by these photos, this frosting pipes really nicely.  The frosting can be refrigerated to use later.  Just make sure it's in a lidded container.  Allow the frosting to warm up to room temperature on the counter before using.  Happy cake decorating!
Chocolate Buttercream Frosting
Author:
Savory Sweet Life
Prep time:
Cook time:
Total time:
A simple recipe for classic chocolate buttercream frosting. Perfect for frosting cakes, cookies, brownies, or cupcakes.
Ingredients
1 cup unsalted butter (2 sticks or ½ pound), softened (but not melted!)
3½ cups confectioners (powdered) sugar
½ cup cocoa powder
½ teaspoon table salt
2 teaspoons vanilla extract or 1 teaspoon almond extract
4 tablespoons milk or heavy cream
Instructions
Cream butter for a few minutes in a mixer with the paddle attachment on medium speed. Turn off the mixer. Sift 3 cups powdered sugar and cocoa into the mixing bowl. Turn your mixer on the lowest speed (so the dry ingredients do not blow everywhere) until the sugar and cocoa are absorbed by the butter. Increase mixer speed to medium and add vanilla extract, salt, and milk/cream and beat for 3 minutes. If your frosting needs a more stiff consistency, add a little more sugar. If your frosting needs to be thinned out, add additional milk 1 tablespoon at a time.
Here's a great short video tutorial I did for PBS on how to pipe these beautiful frosting flowers using vanilla buttercream on cupcakes, but you could easily do this with the chocolate one from this page. If you enjoy the video, please like it so I'll be able to do more!
And here's another short PBS video tutorial I did on how to make Cookie Monster Cupcakes.